Screen recording has grown by leaps and bounds as we continue to digitize every aspect of our lives. Whether you are presenting a webinar, making a how-to tutorial, or merely trying to capture an error on your computer screen, finding the Best Free Screen Recorder for PC is essential. However, with so many options available, you might find yourself at a crossroads, wondering what's suitable for your needs.
Luckily for you! I've analyzed, compared, and tested numerous free screen recording software and narrowed down some top choices readily available to fit your needs, offering great features like an easy user interface, high-quality resolution recordings, and editing capabilities – all at zero or minimal cost.
Expect To Learn About:
The best picks of Free Screen Recording Software for Windows
Detailed insights on the top screen recording tools for PC
Pros and cons of each free screencast software
Unique user needs are being catered to by each free screen recorder
How various free capture software can be utilized optimally
Essential Insights on the Best Free Screen Recorder for PC
In today's digital age, having reliable screen recording software is a necessity. It's not just about capturing video calls or recording gameplay anymore; and it's also about presentations, tutorials, reviews, and so much more. As such, I've decided to delve deep into finding the best free screen recorder for PC users that provides top-notch features without breaking the bank.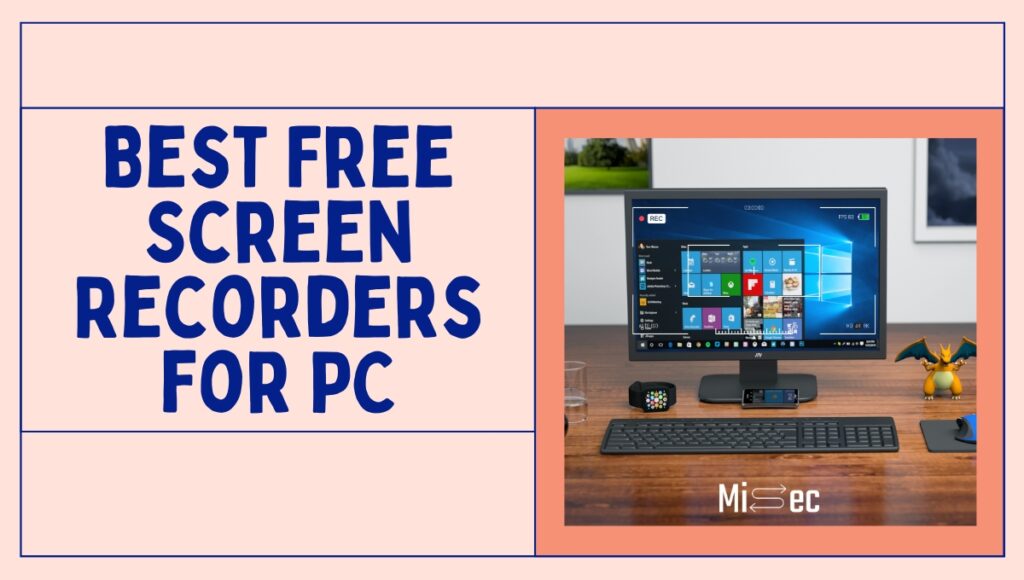 Grasping the Essentials of OBS Studio
You've probably heard about OBS Studio. It is often revered as one of the top screen recording tools for PC users. Let me delve into its specifications:
Open-source: This literally means you enjoy full access to an array of customized features provided by its active community developers.
Streaming and recording capabilities: Whether you want to go live on Twitch or record high-definition tutorials, OBS has your back.
Compatibility: Supports multi-platform usage - Linux, Windows and Mac.
Now, onto why OBS stands out:
High-performance real-time video/audio capturing and mixing.
Filters for video sources such as image masking, color correction, etc.
Supports custom transitions.
However, there are a few possible drawbacks:
The interface might be overwhelming for beginners due to numerous customization options.
It requires high computational power - which may make slower PCs lag.
Given these points above, though—I still believe it outshines many free screen recorders, considering its powerful performance.
Adapting with Debut Video Capture
Taking a transition from OBS studio—let's talk about another free screen capture software: Debut Video Capture.
Allow me to shed some light on their distinct features:
Friendly User Interface: Unlike OBS Studio–this is pretty straightforward and easy, even for newbies!
Supported formats: AVI, WMV, or ASF files–you can choose what suits you.
Timed Captures: You can set up a recording to happen automatically.
Benefits include:
Flexibility with screen selection – you have the option to record from a webcam, your entire screen, or only a selected area.
Adjust the screen resolution, size, and frame rate for the capture.
Add your own text captions to the video.
In terms of its potential shortcomings:
You get limited editing features for free - in-depth edits require a paid version.
Limited file formats are available for export.
So, if you're seeking simplicity more than customization–I'd suggest opting for Debut Video Capture as your free screen recorder for PC+.
Unveiling the Special Features of Leading Free Screen Recorders
Let's dive into some of the most powerful players in free screen recording software, exploring their valuable features, benefits, and potential downsides.
Movavi Screen Recorder: A Standout Choice for Versatility
When it comes to versatility in PC screen capture software, Movavi Screen Recorder is one of the best free screen recorders for PCs:
Specifications: With tools like scheduling recordings ahead of time or capturing separate streams simultaneously (a blessing while streaming instructions with a side commentary), Movavi undoubtedly excels in specifications.
Benefits: Its flexible features cater well to a variety of user needs - whether you're making tutorials or merely capturing video calls. And it offers basic editing functions right within the app, making things even simpler!
Possible Drawbacks: On the downside, though - considering it's one of the free screen recording software options - my only gripe would be the watermark on unregistered versions, resulting in videos being distinctly marked as being captured with Movavi.
ShareX has become a fan-favorite for its annotation capabilities among many tasks. Let's take a closer look:
Specifications: This free screen recorder boasts impressive specs such as high-quality video recording resolution (up to 4K), customizable hotkeys for efficient operation, and support for numerous file formats like GIF, MP4, and AVI.
Unique Selling Points: Notably, ShareX really shines in its annotation features that allow users to highlight key points directly on their recordings or screenshots. You can use everything from arrows and rectangles to speech bubbles, illustrating your information more effectively.
Potential Downsides: That said, ShareX might be overwhelming for beginners due to its advanced interface. Also, note that it lacks an integrated video editor, which may force you to use additional software for fine-tuning your content.
Unique Selling Proposition of EaseUS RecExperts for Small Businesses
As a small business owner, if I'm looking for a screen recording software that's effective yet manageable, I'd look towards EaseUS RecExperts:
Specifications: With multi-monitor recording, auto-split recording based on time or file size, and task scheduling features, the specifications of this screen recorder are absolutely stellar.
Reasons to Buy: The USP of EaseUs RecExperts is its ability to record webcam and screen simultaneously, which can be fantastic for webinar sessions and online training materials often conducted by small businesses.
Reasons to Avoid: The only possible reason you might want to give this a pass could be the minor learning curve associated with it. A beginner may need some time to figure out how all features work effectively together.
Each of these software emerges as a top screen recording tool for PCs in its unique way, promising a solution that fits most user needs. Screen capture can't really get any more comprehensive than these!
Exploring the Best Free Screen Recorders Catering to Unique User Requirements
As you delve into your quest for the best free screen recorder for PC, it's critical to understand that being a 'best' pick doesn't solely depend on countless features or high-tech specs. Instead, it often depends more on how well these screen recording tools cater to your unique requirements, be it simplicity for non-editors or excelling at recording live footage. Let's zoom in on two such standout software that cater to these specific needs.
The Non-Editor's Pick: Screencast-O-Matic
For those of us who aren't conversant with complex video editing workflows yet need an efficient screen recording solution, there's Screencast-O-Matic. Here are a few reasons why this free screen recorder stands out:
Simplicity: This free screencast software shines through its easy-to-use interface that simplifies the task of capturing your on-screen activities.
Essential Editing: With a built-in annotation tool and basic video clipping functions, it makes quick edits a breeze even for non-editors.
Direct Publishing: This feature enables you to directly upload and share your recordings through a number of platforms, including YouTube and Dropbox.
However, there are a few drawbacks you may wish to consider:
There's a watermark in the free version.
It limits recordings to up to 15 minutes.
Useful as it is for basic tasks, those seeking higher functionality might find Screencast-O-Matic somewhat restricted.
Mastering Live Footage with FlashBack Express
When it comes down to capturing live-streamed content flawlessly, no PC screen capture software serves better than FlashBack Express. Here's what makes this tool competent:
No Time Restrictions: Unlike many others, Flashback Express offers unlimited recording time.
Simultaneous Recording: It enables concurrent recording from webcam and screen giving a richer content experience.
Great Video Quality: This tool stands out in rendering high-quality video output, even for prolonged live footage captured.
Nevertheless, certain downsides need to be noted down:
Its user interface may seem slightly dated to some users.
The premium features are only available in the paid version.
Despite these shortcomings, FlashBack Express remains a top choice when it comes to capturing live footage in its true essence.
Remember that the best free screen recorder for PC will always be one that aligns perfectly with your work requirements and skill level. Whether you're a non-editor or someone who needs to capture live broadcasts flawlessly, options like Screencast-O-Matic and FlashBack Express are here to make the process simpler and promising!
On the Hunt for Export Flexibility? Meet Apowersoft Free Online Screen Recorder
As we navigate the sea of free screen recorders for PC, one gem stands out when it comes to export flexibility - Apowersoft Free Online Screen Recorder.
Championing .webm Exports with Apowersoft
Apowersoft has quickly become a go-to choice for those who require versatile export options. However, it's the program's .webm export capacity that truly sets it apart. Here's why:
WebM File Support: More screen capture software is starting to support .webm files due to their superior quality and compressed size, ideal for web-based usage. With more platforms accepting .webm files, having a screen recorder supporting this format can be a game-changer.
User-Friendly Interface: Aside from its technical prowess, what attracts me to Apowersoft is its easy-to-navigate interface. Even as a first-time user, I found it easy to grasp and use, thanks in part to its intuitive layout.
Flexible Recording Options: Whether I wanted to record my full screen or just a specific area on my desktop, whether I wanted audio from my microphone or the system – this PC screen capture software had me covered.
Multiple Output Formats: If you're looking into other formats than just webM — say MP4 or AVI—Apowersoft doesn't let you down. It allows users to save their videos in multiple formats, which adds up to being one of the top screen recording tools for PCs.
However, no product is without potential drawbacks:
Internet Dependence: As its name suggests, this free screen recorder works online, which means a constant internet connection is required.
Limited Advanced Editing Features: Although the editing features suffice most requirements, they can seem quite basic if you need advanced editing tools.
Despite these trivial negatives compared with its offering, I believe Apowersoft Free Online Screen Recorder still remains one of the best free screen recording software for Windows mainly because it specializes in something that other software is struggling to offer - a flexible, quality .webm exportation.
What Makes These the Best Free Screen Recorders for PCs?
The digital landscape is teeming with countless screen recording software, each purporting to be the best in their respective categories. As a user prioritizing budget-friendly solutions, I've zeroed in on free screen recorders. Despite being free of charge, these tools are jam-packed with impressive features that leave no gaps in delivering comprehensive screen recording capabilities to users. Let's weigh up each contender and identify the best free screen recorder for PC.
Answering the Big Question: Which is the Best Free Screen Recorder?
When picking the stand-out choice among these platforms, several factors came into play - easy adaptability, unique selling proposition (USP), versatility, catering to unique user requirements, and export flexibility. Let's delve deeper:
Ease of Adaptation: The first touchpoint was OBS Studio. Equipped with high-end studio controls and real-time video/audio capturing potentialities, OBS Studio is popularly known as a robust streaming tool. But its steep learning curve can be daunting for beginners.
Unique Selling Proposition: I discovered that ShareX truly stands out by offering annotation capabilities during a recording session; this feature can make your tutorials or presentations look strikingly professional.
Versatility for All Users: Here's where Movavi Screen Recorder shines – whether you're an amateur wanting basic recording functionalities or a pro needing advanced tweaks like scheduled recordings – Movavi has you covered.
Catering to Unique User Requirements: In my quest for simplicity suitable for non-editors, Screencast-O-Matic turned out to be just right with its intuitive interface. Also targeted toward distinct needs was FlashBack Express - it excelled remarkably in capturing high-quality live footage.
Export Flexibility Finally, while hunting specifically for .webm exporting capability – Apowersoft Free Online Screen Recorder emerged as the winner due to its superior handling of this file type.
While each software has its merits, it's vital to recognize that the best tool really boils down to individual requirements. Are you seeking something that is uncomplicated and beginner-friendly? Or are you hunting for a versatile tool offering a broader range of capabilities?
In my opinion, if maximizing feature-rich options at zero cost is the scale's tipping point, then ShareX would be my go-to choice. With powerful annotation tools and extensive customizability options, it offers no less than premium screen recorders - making it the best free screen recorder for PC.
Remember, what works best for one may not be ideal for another! So keep your unique needs in focus when making your selection from top screen recording tools for PC!
Conclusion
After an enlightening exploration of the best free screen recorder for PC options, I've garnered a swath of knowledge about different screen capture software's spectacular attributes and unique benefits. While OBS Studio remains a top contender for its unlimited recording time, Debut Video Capture merits praise for scheduled recordings. The rich annotation feature in ShareX enhances your video with valuable information, while Movavi Screen Recorder distinguishes itself with exceptional flexibility.
Screencast-O-Matic won the attention of novice editors due to its simplicity, and FlashBack Express stands out for recording live footage effectively. Meanwhile, Apowersoft championed .webm exports, providing its users with more flexibility in their work.
Key Takeaway Points
OBS Studio leads with limitless recording time.
Debut Video Capture excels at scheduled recordings.
ShareX's annotation feature is a significant boost.
Movavi Screen Recorder shines due to all-around versatility.
Simple interface wins Screencast-O-Matic kudos among beginners.
FlashBack Express excels in capturing live footage brilliantly.
Apowersoft is the go-to choice for .webm exports.